#355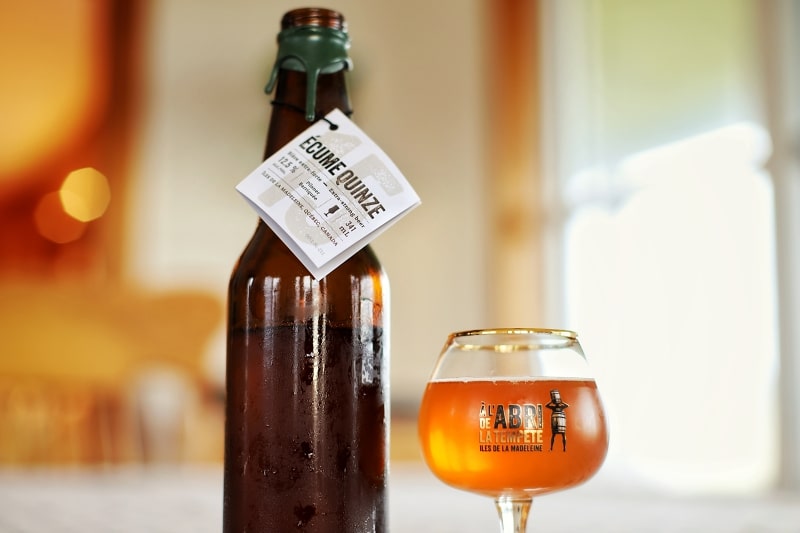 Barrel-Aged Pilsner
12.5%
L'Écume is the founding beer of the microbrewery. Brewed for the first time on June 3, 2004, this rustic pilsner has made its way back in time, thanks to its solid base and its assumed personality. We are proud to highlight today, its 15 years of existence with a very exclusive version.

It's by a blend of aged beer (one year in barrels) with a matured brew (several months in stainless steel) that we pay tribute to him. A final stage of dry hopping reveals finally its notes of noble hops, underlines its presence and proudly expresses its insular roots. Thus, L'Écume 15 shouts loudly: "LONG LIFE TO À L'ABRI DE LA TEMPÊTE"
This nectar of delectable roundness and exquisite complexity celebrates the 15th anniversary of a microbrewery that I love and admire from the very beginning! So many years of passion to produce unique and high quality beers.
L'Écume quinze reveals jams (white grapes, marmalade) and exotic fruits (lychees, plums) flavors. The very fruity side of the beer is complemented wonderfully by a woody, honeyed and sweetly vanilla taste.
In addition, a tender floral bitterness blends perfectly with the cereal notes (brioche bread, butter biscuits). To conclude, a hint of slightly burnt salted caramel enhances the tasting experience.
Although the heat of alcohol is still felt, it remains in harmony with the flavors of beer.
A total success that makes me happy instantly… It's still 12.5% alcohol… 😉
Thanks to Élise and all her team for fifteen years of great passion!
(4.5)