#375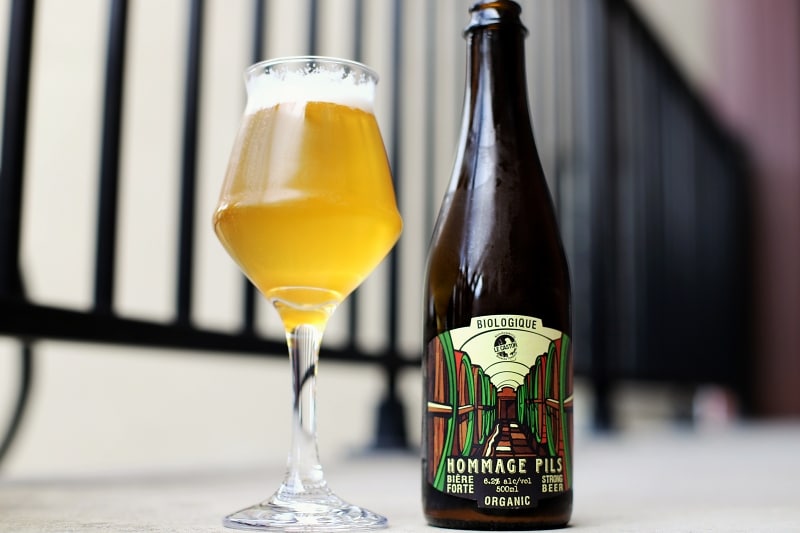 Barrel-aged Pilsner
6.2%
Inspired by the historic underground lagering techniques used at the most famous Pilsner brewery in the world, this beer also spent several months aging in a large format oak foudre. This allowed the beer to further attenuate and take on a subtle character from the oak aging vessel.
On the nose, it smells of cereals, shortbread cookie, wood and flowers.
The robe is a slightly foggy ochre yellow.
On the palate, it's very good but quite unique! Honestly, I expected something fairly different. The texture is rounder than a pilsner and the taste is sweeter.
That being said, it's really excellent! The woody side is very present and brings a nice complexity. Several flavours intersect, including the shortbread cookie, a hint of lemon, a good dose of cereal and a drizzle of honey. The sparkling of the beer also helps bring a little crunchiness.
The finish, longer than dry, leaves us with a lovely floral bitterness and grilled grains on the palate.
While I drink this beer, I imagine myself more in a monastery than on a terrace in the sun. In return, I don't sulk my pleasure so far because it's very good! I would say it's a hybrid style between the pilsner and the abbey blonde.
I have never defined myself as a purist of beer styles, therefore the note I give is simply my general appreciation of the product.
P.S. You have to drink it cold! Because as it warms up, its rounded and sweet characteristics become more accentuated.
(4.00)