#363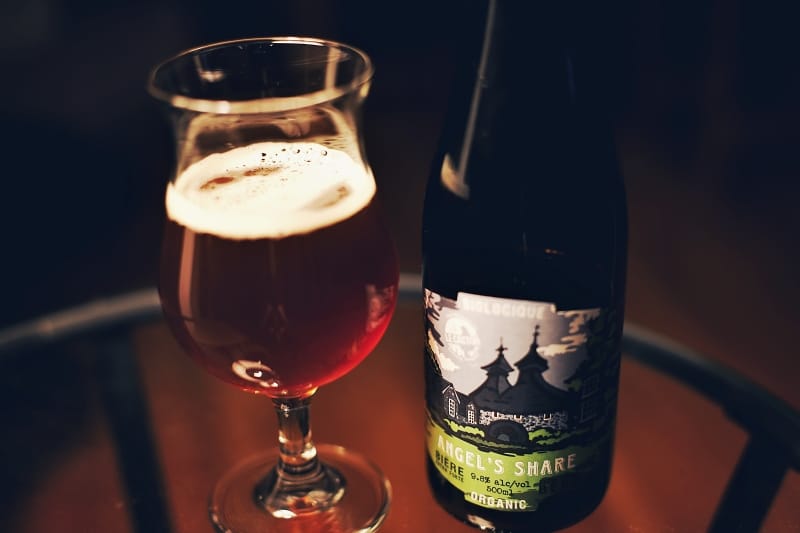 Barrel-Aged Scotch Ale
9.8%
Angel's share is the poetic expression used by Scots to describe the evaporation of alcohol that takes place inside a whisky barrel while the spirit is maturing. We also lose a large percentage of our barrel-aged beer to the angel's share. This scotch ale was aged in single malt Scottish whisky barrels from the Isle of Islay. Pairs well with venison, or haggis and a side order of neeps & tatties.
Already, the nose announces something special! Slightly peaty with a scent of crabapples, moist earth and burnt caramel. Wow!
From the first sip, the tasting experience takes us very far from the typical barrel-aged scotch ale. Only in terms of texture, it's thinner and slightly sparkling.
We have here a complex and well balanced product but the surprise is a little bit there for me. There is clearly an influence of wild yeast here. I even took the time to check with the microbrewery directly before writing my tasting because I wanted to be sure I understood the process that led to this excellent but somewhat surprising beer. Basically, they add several strains of yeast in barrels and the beer has been fermented and bottled with the same equipment used for their wild beers, so there may be a presence of Brett yeast even if they don't add it directly .
The result? A magnificent blend of tangy flavors (crabapples, green apples) and woody flavors (barely peated scotch barrel). A complex, honeyed and slightly spicy beer that is, in some kind, easy to drink. Indeed, alcohol is absolutely not felt (only in the taste actually…)!
Beer also has a fairly earthy side that reminds me of the complexity of a good scotch. In addition, the malty taste (burnt caramel) melts well overall, without taking up too much space.
Not sure that this beer is easy to find, but if you are lucky enough to get it and you like to be slightly destabilized, I highly recommend it!
(4.00)

The echoes around…